Elusive my Kisses
¿Que haces caminando por esta parte de la ciudad? - hablá una chica de cabello castaño y ojos azules iluminados sentada en una silla de un restaurante al aire libre
¡OH!, me has dado un susto, no te vi venir. - hablá un chico de cabello plateado que le cubren lo ojos pasando el susto dado de su amiga
Me dirijo a colaborar con la recolección de desechos plásticos que hay en la playa – responde el pelo-plateado con sus manos en los bolsillos de su pantalón, sonrisa y una aptitud relajada.
¡Kyyaaa!, me gustan los chicos que se preocupan por el medio ambiente – replica la pelo-castaño con corazones en sus ojos.
No empiezas otra vez – mira el chico de cabello plateado viendo venir lo que pasara.
No te resistas ante mi, se que te gusta hacerte el difícil conmigo pero estamos destinados ha estar juntos para siempre – manifiesta la pelo castaño con una cara ensombrecida y su boca babeando mientras tiene sus manos juntas como si se las lavara
Hay esta tu complejo tsundere otra vez. Verás, no quiero estar jugando al gato y al ratón evadiendo tus besos – responde el chico con una sonrisa nerviosa manteniendo aun sus manos en los bolsillos de su pantalón mientras da un paso atrás intentando caminar para disimular el miedo y no correr.
Evade mis besos lo mas que puedas no descansare hasta alcanzarte – se levanta la chica de su asiento para incorporarse a correr detrás del chico.
Alcanzame si puedes, si me atrapas seré tuyo por esta semana – hablaba el chico pelo plateado mientras salia corriendo con sus manos aun en los bolsillos mientras sonreía.
¡Kyyaa!, me gusta cuando hay recompensa al final, entonces ya veras – argumentaba la chica pelo castaño mientras corría detrás de su interés amoroso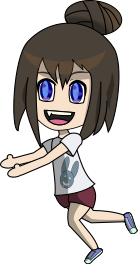 ---
Descripción
En este sencillo mini juego tendrás que evadir los besos de tu enamorada por el mayor tiempo que puedas y así acumular el mayor puntaje que permita tu destreza.
los controles son las flechas direccionales con lo cual podrás moverte en los cuatro sentidos
Creditos
Palabras del Desarrollador
Este es el primer proyecto que realizo en el motor de desarrollo de juegos #Godot, esta basado en un tutorial de Adderly Cespedes, el motor me ha dejando encantado por la manera en como ofrece en bandeja de plata ciertas funcionalidades que en #GameMaker constaba tiempo realizarlas, este sera el primero de muhos juegos que realizare en este motor y a mejor calidad.
---
What are you doing walking through this part of the city? - speaks a girl with brown hair and blue eyes illuminated sitting in a chair of an outdoor restaurant
OH!, you scared me, I did not see you coming. - A boy with silver hair speaks, who covers his eyes after the scare given by his friend
I am writing to help with the collection of plastic debris on the beach - the silver-haired person responds with his hands in the pockets of his trousers, smile and relaxed fitness.
Kyyaaa!, I like kids who care about the environment - replicates the brown hair with hearts in their eyes.
Do not start again - look at the silver haired boy watching what will happen next.
Do not resist me, I know that you like to make yourself difficult with me but we are destined to be together forever - manifests the brown hair with a shadowed face and his mouth drooling as he holds his hands together as if he were washing them
There is this complex tsundere again. you will see, I do not want to be playing cat and mouse evading your kisses - the boy responds with a nervous smile while still holding his hands in his pants pockets as he takes a step back trying to hide his fear and not run.
Elusive my kisses as much as you can not rest until you reach - the girl gets up from her seat to get up to run after the boy.
Reach me if you can, if you catch me I'll be yours for this week - the silver haired boy spoke as he ran out with his hands still in his pockets while smiling.
Kyyaa!, I like it when there is reward at the end, then you will see - argued the brown-haired girl as she ran behind her love interest.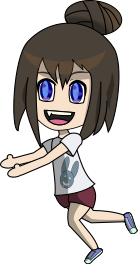 ---
Description
In this simple mini game you will have to evade the kisses of your love for as long as you can and accumulate the highest score that allows your skill.
The controls are the directional arrows with which you can move in all four senses.
Credits
Developer's words
This is the first project I made in the #Godot game development engine, based on a tutorial by Adderly Cespedes, the engine has left me delighted by the way it offers on a silver platter certain features that in #GameMaker consisted of time perform them, this will be the first of many games that I will perform in this engine and better quality.
Download
Click download now to get access to the following files: